Don Topley spent fifteen years on the professional cricket circuit as a fast-medium bowler representing Essex CCC for over 10 years during their time as one of the most successful counties ever in the history of the game. During his career, he also represented Norfolk CCC, Surrey CCC, Griqualand West C U (S. Africa) and spent many winters abroad in Southern Africa.
Don made his first impression on the professional game in 1984, while serving his apprenticeship at Lord's as an MCC Young Professional under the charismatic MCC Head Coach, Don Wilson. During the Lord's Test vs West Indies Don was one minute selling scorecards and then was asked urgently to go on as England's 12th Man. Within minutes of entering the arena he took a most outstanding and wonderful one-handed test match catch – only to be 'told off' by the angry fast bowler, Bob Willis, for standing on the rope!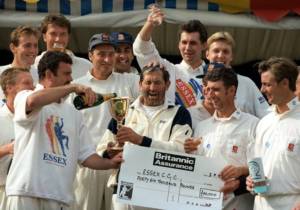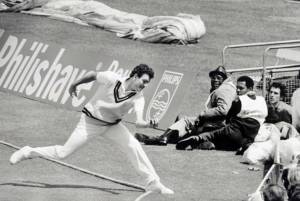 Sharing dressing rooms with the likes of 3 England Captains (Graham Gooch, Keith Fletcher and Nasser Hussain) and many other international cricketers – Alan Border, Salim Malik, Mark Waugh, Ken McEwan, Derek Pringle, Neil Foster, John Lever, Ray East and former room-mate and former England selector, Geoff Miller – Don can recount many true and funny cricketing anecdotes during his 'After Dinner Speaking' engagements..
At only 26 years old, he also became an international coach with Zimbabwe (1990-92) and enjoyed a famous Zimbabwean World Cup victory over 'Gooch's England team' in Australasia in 1992. Other overseas coaching stints included at Griqualand West, Roodeport, Natal Interior and at Harare Sports Club
He continued to be a thorn in English cricket's side for the next decade, by being the very first person to suggest 'match-fixing' was present in our beloved game. Vilified in 1994, but now vindicated after the revelations and other allegations, together with the publication of the 2001 ICC Lord Condon Report.
After a 24 year career as a schoolmaster at RHS, Suffolk, Don is now often seen or heard commentating passionately and knowledgeably with BBC Radio and writing in local newspapers, whilst hosting England Supporters' Tours during the Winter months.